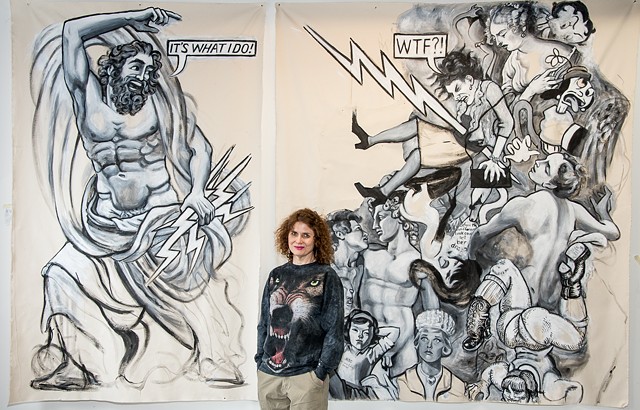 "It is only shallow people who do not judge by appearances. The true mystery of the world is the visible, not the invisible...."
--Oscar Wilde
Over the years I have made art in many ways and in many kinds of media—oil painting, graphite drawing, watercolor, charcoal, and most recently acrylic painting and ceramic sculpture. I change according to the limits and possibilities of the medium, and, being always interested in skill-building, I have stepped up to certain challenges that take me in unfamiliar directions.
My one consistent life goal is to discover the truth about the seen world, and to understand how the eye, hand and medium bring that discovery about.
Themes that recur in my work include loss, self delusion, fear, and the artificiality of idealization and gender roles.
Pictured: I, too, Got Fucked by Zeus, 72" x 120", acrylic and charcoal on canvas, in progress